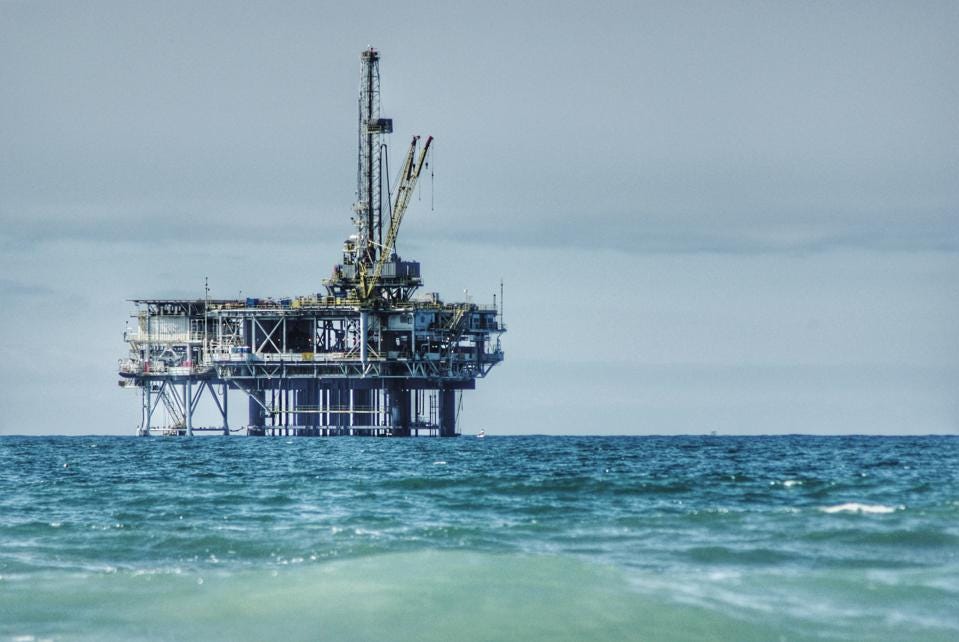 Where Blockchain Technology Can Disrupt The Oil And Gas Industry
What if someone figured out how to use blockchain technology to revolutionize the oil and gas industry? What would that look like, I wonder.It all started with an old friend of mine, now a senior official in the oil and gas industry, approached me after reading one of my recent 
Forbes
 articles on the blockchain. He mentioned how he was intrigued by my opinion into this emerging field but also felt it had tremendous potential for his sector, which is at once both highly complex yet still critically important to human life as we know it — oil and gas.Blockchain has moved past its status as a niche technology and is now being looked at as one that can transform many traditional industries by bringing digital automation, security and potentially large cost savings. Shareholders have been pushing oil and gas businesses to cut expenses while increasing earnings, putting them under pressure. Blockchain can help the oil and gas supply chain by automating numerous procedures and providing greater transparency.Three U.S. oil-company groups including Chevron and Exxon have teamed up to become the first 
blockchain consortium
 for the sector. The consortium seeks to determine the potential benefits of blockchain on oil and gas markets. The technology has the potential to improve the efficiency of the oil and gas industry for companies by reducing operational costs and eliminating operational delays, as well as increasing transparency to the industry.In this article, we will explore a few potential applications of blockchain technology to streamline the oil and gas industry.
Blockchain To Digitize Crude Oil Transactions
MORE FOR YOU
Why The Rock's Social Media Muscle Made Him Hollywood's Highest-Paid Actor
Three Ways Businesses Can Help Prevent Phone Spam And Scams
Back To Basics: How Retailers Can Focus On Efficiency To Survive And Thrive In A Rocky Economy
Blockchain offers three major benefits to the crude oil industry; that is, digitizing transactions for higher security, increased transparency and greater efficiency. In 2017, Natixis, IBM and Trafigura were the first to 
launch
 a blockchain solution for U.S. crude oil deals using a smart-contract platform.Blockchain enables buyers, sellers and their respective banks to all share information simultaneously because they are looking at the same ledger. From the time an order is confirmed until its delivery and cancellation of a letter of credit, blockchain can improve the process.
Blockchain Technology For Improved Trust
Another possible application of blockchain in oil and gas is to store the certificates required to operate safety-critical industrial equipment. A company's blockchain network may securely record and store the employee or contractor certification, such as H2S training, first aid, welding and so on. By storing such information in a blockchain network, verification of certificates and standard operating procedures can be done by all members at any time that in turn would improve trust among the stakeholders.Blockchain technology can play a role beyond improving trust between companies and contractors/ employees; blockchain can also help address issues like expensive hiring and ensuring safety in work performance.
Crypto-Backed Oil And Gas
Blockchain might serve oil and gas mining by offering cryptocurrencies to the public. Moreover, diverse parties could use the token and transpose value inside them without ever using banks. This can provide a very important opportunity to tokenize this sector and offer more options for investors. At the moment, investors are quite clear on where the future lies. Further investment options would only benefit both sectors. That's a nice way to go with a cryptocurrency supported by oil. For now, tokenization will be helpful mainly in oil and natural gas.As one of the most valuable non-renewable energy sources in the world, a cryptocurrency that is tied to oil could be an alternative for traditional financial transactions. The intended purpose of cryptocurrency tied to oil is allowing parties to direct value transfer with one another while removing the need for a third party, like a bank.
Cost Reduction Through Elimination Of Middlemen
International oil and gas supply chains are difficult to monitor because they involve many participants who come together for a short time, each of which requires access to current information at all times. Because the data was generally dispersed across several systems and manual reconciliation was required to obtain a full picture, this meant that numerous middlemen were necessary in the past.Blockchain is a decentralized technology that maintains records as safe and accessible, thus eliminating the need for most if not all middlemen. Blockchain's potential for helping oil and gas companies increase efficiencies in their supply chain management is substantial: transactions could be completed quickly and easily between suppliers, buyers and financial institutions without the need for intermediaries (and their fees).
Blockchain For Transparency In Oilfield Assets
The oil and gas industry is directly affected by the world's population growth, which will lead to more energy consumption. Two of the most significant issues the sector is currently dealing with include an increased need for more oilfield assets to meet the growing demand for oil and gas products. The second issue is the opacity of oil and gas operational processes. Oil and gas companies spend a significant amount of time and money maintaining oilfield assets; in the operational activities of the sector, it is critical to have proper insights of these assets.Blockchain can help improve oilfield asset visibility, which will decrease time spent resolving oilfield asset issues. Moreover, by seamlessly joining with other technologies, blockchain may help improve the identification of asset solutions. Blockchain will also help improve the oil and gas industry by cutting down on time and cost.
In Conclusion
Blockchain has numerous value propositions to offer the oil and gas industry, but perhaps the most compelling one is developing a privately accessible blockchain network to support transaction life cycle across all of its stakeholders. Practical challenges may be there for the implementation of this broader ecosystem approach; therefore, the optimal value proposition will not be easily determined, and expert advice would be essential. A broad multi-disciplinary team of experts can help by providing expertise in the field and leadership in the areas that would most benefit from the blockchain system.